57ZB23-001A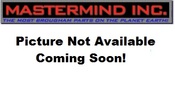 1957, 1958, 1960 300 SERIES STAINLESS STEEL EXHAUST SYSTEM DECORATIVE FLEXIBLE METAL SHROUDING: Four Piece Set. All 57-60 Cadillac models had this flexible covering on them when they were new, which was both decorative and most importantly designed to create a sound deadening between the exhaust manifold and the muffler inlet. This was to make the car quiet like a Cadillac should be! The OEM parts were made of mild steel, which quickly rusted and fell off, or were thrown away when the exhaust system was replaced. These stainless replacement parts will out live all of us! $350

NOTE: It has been my experience that most 1957, 58, and 60 cars were originally delivered with the 4 piece set. However occasionally customers have told us they found an OEM 3 piece set on a 57-58 car. It is entirely possible this detailed varied on the assembly line process. The fourth piece of a three piece set would be an asbestos wrap on the L/H short manifold pipe. Please see PT# 57ZB23-001B, generally found on 1959 cars.


CODE DESCRIPTION PRICE

57EB23-001 S/S EXHAUST SYSTEM inquire
Made from double wall 304 nonmagnetic S/S pipe. Muffler shop pipe bending machines can't duplicate this
precision mandrel bent system. There is a difference! Stainless steel mufflers and resonators sold seperately.
12 Piece Set.

57EB23-002 STAINLESS STEEL MUFFLER HANGER SET
Features 304 stainless steel brackets and rivets, die cut neoprene rubber.
Far superior to OEM. Six assemblies.

57EB23-003 MILD STEEL EXHAUST SYSTEM 1250.00
With aluminized mufflers and resonators. Exact fit, unlike the others on the market.

57EB23-004 LEFT AND RIGHT REAR TAILPIPE RETROFIT STAINLESS STEEL TAILPIPE HANGERS
Looks like a factory installation and uses existing holes.
No need to butcher your car to turn the exhaust down in front of the bumpers.

57EB23-005 MUFFLER HANGER BRACKET
Die cut rubber and stainless steel rivet kit. Inexpensive way to renew your old hangers.

57EB23-006 304 STAINLESS STEEL OVAL SHAPED RESONATORS 325.00
OEM shape, everlasting quality.

57EB23-007 STAINLESS STEEL MUFFLER CLAMP KIT 275.00
14 pc set

57ZB23-001 1957 - 60 300 SERIES STAINLESS EXHAUST SYSTEM DECORATIVE FLEXIBLE METAL SHROUDING 400.00
from the exhaust manifold to muffler.For that factory look! 4 piece set includes installation instructions, which you will need!
Exact replica, will never corrode like original. 1959 Only 3 piece set: 375.00

57ZB23-002 1957 - 60 EXHAUST HEAT RISER ASSEMBLY 100.00

57ZB23-003 1957 - 60304 STAINLESS STEEL MUFFLERS 300.00
OEM appearance. Top quality.

57ZB23-004 1957 - 60 EXHAUST MANIFOLD TO MUFFLER GALVANIZED EXHAUST SYSTEM DECORATIVE FLEXIBLE METAL SHROUDING 250.00
For that factory fresh look! Includes installation instructions, which you will need! 4 Piece Set.

99ZB23-001 STAINLESS STEEL MUFFLER CLAMP inquire
5/16 " wire diameter, 1¾" pipe size.

99ZB23-002 STAINLESS STEEL MUFFLER CLAMP inquire
5/16" wire diameter, 2" pipe size.

99ZB23-003 EXHAUST SYSTEM ASSEMBLY CERAMIC JOINT PUTTY inquire
A must for stainless steel exhaust installation to prevent leaks.