BARN FIND OF THE YEAR!
Greetings To All My Fellow Cadillac Enthusiasts,

Even thirty years ago, when I first started getting interested in 57-60 Broughams, only on extremely rare occasions would you run across something like this! These days it is virtually unheard of! Enclosed are a few pictures of a 58 Brougham that has to be the barn find of the year!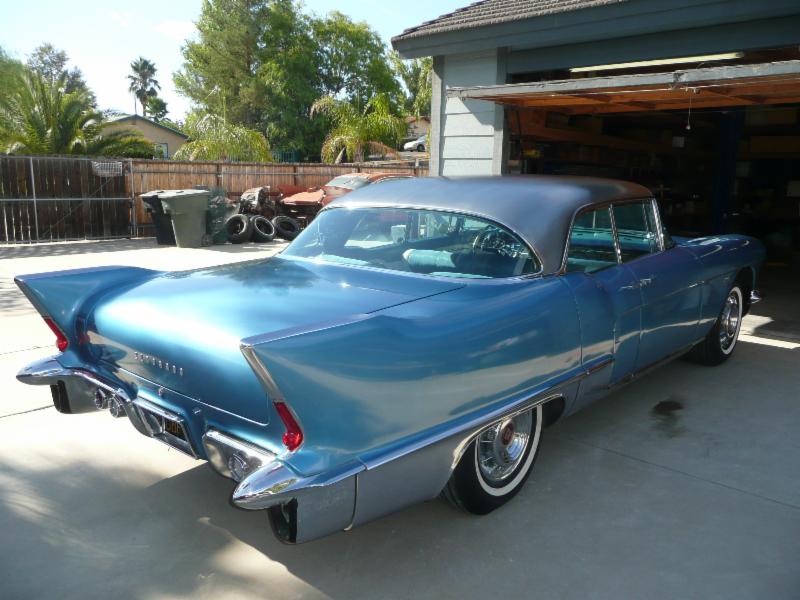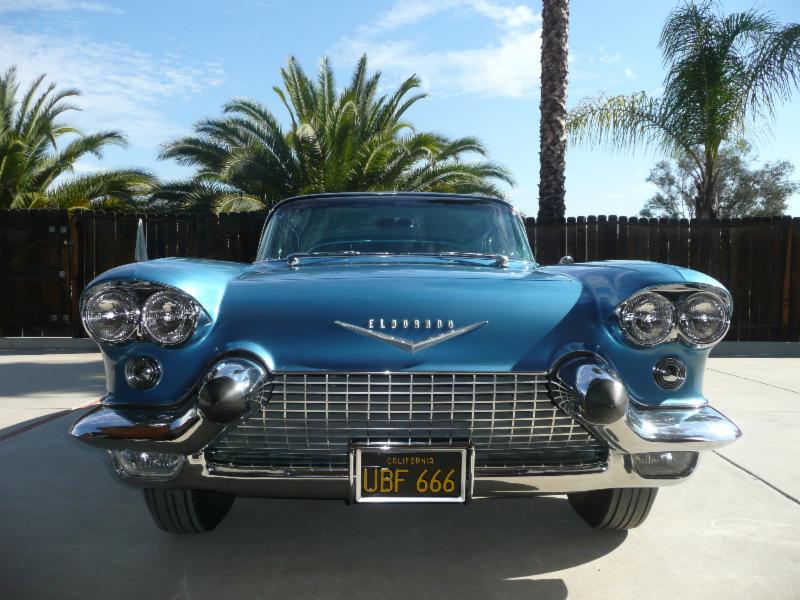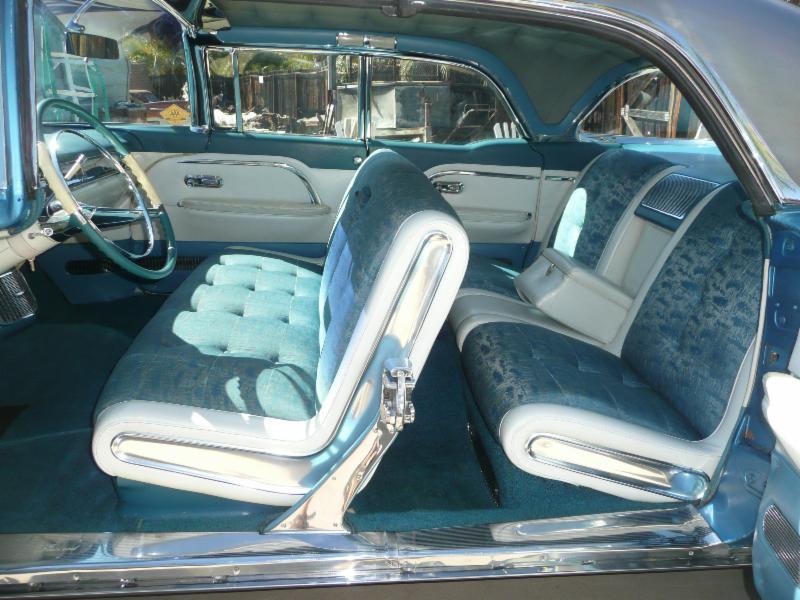 Body #700: Currently Unlisted on the Cadillac Data Base among Broughams known to exist! 26M original miles! Last registration tag on the California black plates is 1967! This car had been left absolutely untouched for many decades in the same garage I recently pulled it out of!

This 58 Brougham is original and unmolested right down to the OEM radiator hoses and clamps. It still has the OEM markings on the upper radiator hose! Airide is completely untouched and in place as it left the factory. It also has the original spare tire in the trunk! The only two things I can see that have ever been touched are a few parts of the exhaust system at the rear, and the 4 tires. However the tires look very similar to OEM so they are no doubt this cars first new set installed back in the 1960's.

By carefully examining this car I have learned small restoration details about the Brougham that I have never been able to confirm before in my 30 years of specializing in this model car! It is absolutely one of the most untouched original Broughams I have ever seen, and is in remarkable original condition. It is the kind of car you could easily make a 95 point driver out of without doing a body off restoration costing hundreds of thousands of dollars! It of course would also be an incredible car to start with for 100-point body off restoration, but unlike the vast majority of the Broughams out there it would not be required if you did not want to go quite that far.

It took 8 years of diligent effort to buy this car! It had been sitting untouched in the same SF bay area garage for over 40 years! Only 34 of the 704 57-58 Eldorado Broughams were built in this very elegant dark blue metallic. (Known as Fairfax Blue, code 126)

In my mind color makes or breaks a car. Over the years I have intentionally collected Broughams in rare colors because they are more exciting to look at and will definitely have higher value over the long term. Over half of all 704 Broughams built over 2 years were either Black or White. While all Broughams, regardless of color, are special and magnificent automobiles #700 is something extra special!

For the benefit of those who would like to know (Who could resist knowing the details?) I will describe the condition further:

Exterior: Perfectly straight and rust free. It does not get any better than this. Strangely the car had been painted a very long time ago. It was done in Lake Placid Blue, code 122. I can see absolutely no evidence of the car ever having had any body damage of any kind. (I am an expert body man and can spot these things a mile away) This leads me to believe it was a dealer color change, which was done a lot on Broughams when they were brand new. 1958 was a recession year. The dealers had trouble selling these very expensive cars so they would often tell customers that if they did not like the color of the car they would re-paint it in the color of their choice. I have heard many such stories from original owners and dealership people over the years. This appears to have been one of those cars. Having worked in the auto body business over 30 years ago I can say the quality of the job is consistent with dealer work back in those days. (Not great in other words)

Exterior Trim: Trim is original and in very good condition. Needs to be re-chromed for a high point show car, but looks very decent as is.

Interior: In addition to the rare exterior color it has what I consider to be the best type of interior combination. Three color tones with fabric to offset the various colors with texture differences. This type of interior is far more interesting to look at than the two tone and full leather interiors. It is Dark Blue on top, Ivory leather bolsters and door panel centers/dash bottom, and Medium Blue around the bottom of the door panels with shimmering Parrisienne cloth fabric cushions, wool headliner, and mouton carpet to give it texture. This looks absolutely stunning, and would contrast beautifully with the correct dark blue exterior. (It also looks great with Lake Placid Blue!)
The interior is in original and absolutely amazing condition. With a little bit of dye and misc. other work here and there this original upholstery could look 98% as good as new. The original leather on the bolsters is the best I have ever seen. I have seen many re-upholstered cars that do not look anywhere near this good. In fact I would go as far as to say 99% of the re-upholstered cars I see do not look even half as good as this leather! The Parisienne cloth seat fabric is not worn through on the drivers seat like 99% of these cars are. Unfortunately there is some damage on the RR seat backrest cushion.

The original carpet is in excellent condition. Strangely according to the factory records this car was delivered with loop carpet, but according to the body tag this car was delivered with mouton carpet. The carpet is absolutely untouched original karakul loop. (I have discovered quite a few inconsistancies in the factory records over the years) Since this was one of the very last Broughams built they probably ran out of blue mouton, which I can tell you from my personal experience is a very hard color to make, so they simply installed the loop instead.

Mechanical: I have not yet tried to start the engine. I would want to remove the valve covers and rocker shafts first to check to make sure some of the valves are not stuck in the guides, which is a common problem on old Cads that sit for a long time. To prevent damage to the engine it is important to check this first, otherwise it is possible to bend valves and crack pistons while trying to start the engine. I have not tried to operate any of the other systems yet. Even though everything is complete and intact it is best to proceed methodically, and with caution, on all this to avoid damage.

Also enclosed is a picture of another Brougham that is painted in Fairfax Blue, which is the correct color for #700. Out of the 34 cars built in this rare and desirable color there cannot be many with a great looking interior combination like #700! The one in the picture has full gray leather, which is only a two-tone option. It simply does not have enough contrasting textures and colors to properly set of the rich exterior color. It looks nice, but not nearly as spectacular as it could have been had the original buyer put more thought into matching blue color and fabric choices. If you could image this exterior color with the magnificent interior described above. It would be absolutely stunning!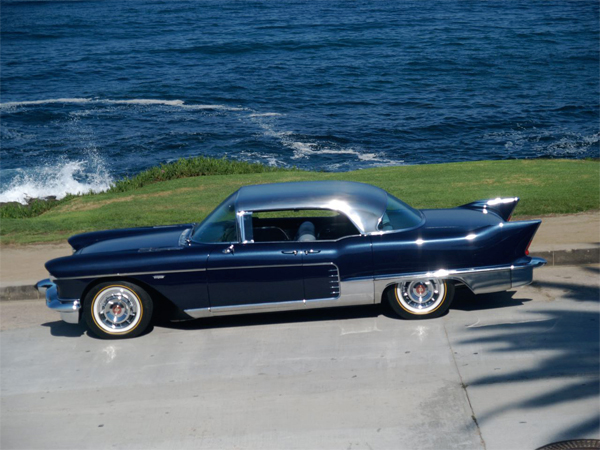 I thought I would share this exciting news with you just for the fun of it. I sincerely hope you got some enjoyment out of hearing this unusual story. I would like to take this opportunity to thank you all very much for the interest you have shown in my work over the years. It is always appreciated.

Sincerely,

Michael Rizzuto

PS: Just when you think there is nothing left to find the unexpected happens!