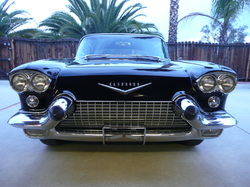 1958 Eldorado Brougham, Body#658, Info

Fellow Brougham Enthusiasts,

Thank you for your interest in our recent find of 1958 Eldorado Brougham #658. As you know the Eldorado Brougham is the Cadillac of Cadillacs, and the most unique and exciting of all the post war American cars. Its incredible 25 years ahead of their time technical features, combined with Its "Mission to Mars" styling, make this hand built milestone the epitome of the 1950's tail fin era. The crowning symbol of the unique free enterprise system exclusive to the United States, back in the day when capitalism was celebrated and allowed to work unapologetically the way it was intended.

Nothing Detroit ever built, aside from the Motorama dream cars, can even come close to it. In fact it has much more in common with the Motorama cars than it does to anything else built in Detroit during that time. I know most collectors first gravitate toward the Eldorado Biarritz, which is also a fabulous car. However later these same people often begin to fully understand what the Brougham is and then realize it is easily 10X more amazing than the Biarritz, which all would agree is ordinarily very hard to top!

Body# 658: Currently Unlisted on the Cadillac Data Base among Broughams known to exist! It has been off the radar of most collectors for 56 years! This is a numbers matching 58 Brougham that I once owned 20-25 years ago. It was a garaged
car from new and had about 21- 22M orig miles on it at the time! (Currently has about 28M original miles)

Overall Condition:
The original interior is magnificent! It is far above average, even when youexamine it closely. It simply does not get any better than this on an un-restored car! The exterior paint and chrome gives the appearance of a restored car from 10 feet away, but it can be nitpicked upon close examination.This car has been converted to coils springs, but it was a reasonably good job of it. (Many are really bad) This is the way I bought it decades ago. Since this Brougham is on coil spring suspension it would not take too much work to turn it into a very nice looking original condition, running and driving, car. It would never be 100 point, but it would be something extremely nice looking as is without doing a full restoration. It is thekind of car you could easily make a 95 point driver out of without doing a body off restoration costing hundreds of thousands of dollars! It of course would also be an incredible car to start with for 100-point body off restoration, but unlike the vast majority of the Broughams out there it would not be required if you did not want to go quite that far.

Roughly 20-25 years ago I did only minor mechanical work to it, installed a new mouton carpet set and trunk upholstery. (The very first ones I ever did) Then drove it around every day for about 6 months or so without any major problems. After a while
I had a problem with the transmission. The seals dried out from sitting, which is a common problem on low miles cars, so I had it rebuilt. Shortly afterwards I sold it to a friend of mine who has had it ever since.

It has been in a garage in California all this time so the condition has not deteriorated much if any. For the past approx. 15 years it has not been driven because my friend decided to remove the Engine, Transmission, and everything under the hood and on the firewall for painting, detailing, and gasket re-sealing. Other than that the car is untouched the way he got it from me.

His intention was to clean, paint, repair, detail all components from the firewall forward, and to re-seal the engine because of minor oil leaks, which again is common when low miles cars sit a long time without being used. Then he never put the car back
together.

Exterior Paint: It still looks more or less how it did when I bought the car 20-25 years ago. Body is very straight and
clean. I am an expert body man and do not see any evidence of previous collisions or accidents. The paint still has a very nice shine, but is not perfect. It does not have any major dings. In some ways it gives the appearance of an original paint car because the paint is thin. It is rubbed through to the primer in many places, and you can still see all the OEM lead joints, factory
sheet metal ripples, etc. It does have quite a few small chips in the paint. Also paint cracking in some places, mostly around some of the lead joints, which is very typical of all Broughams. To me the car looks a little too good to be
original paint. It does show signs of at least some spot repairs. There have been some minor rust repairs in the lower front fenders, and in the battery box area of the quarter panel. (This is also very typical of a lot of Broughams) The floors and sheet metal are solid. The car is as solid as a rock other than where these small repairs were done. I think possibly a very thin complete re-paint may have been done 30 years ago. If so it was done very carefully using the original acrylic lacquer. (No paint over spray on the moldings) However since black is relatively easy to spot paint it could also be a combination of original paint and spot repairs. It has the original paint in the doorjambs for sure. All the OEM rubber seals are untouched, and in very good condition.
---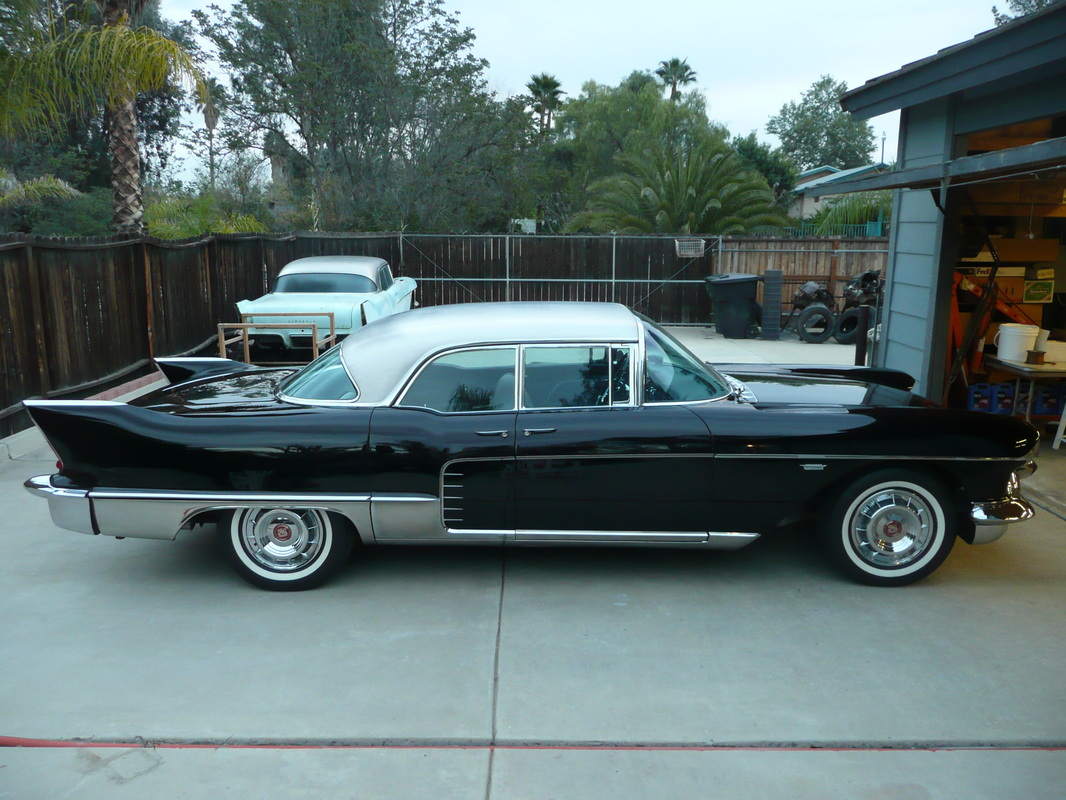 Exterior Chrome and Trim:
The chrome around the very hard to restore window frames is extremely nice. The stainless roof is in very good condition, much better than 90% of the original Broughams I see. Generally the exterior trim is extremely nice for original chrome, but some parts would have to be re-finished for high point show car. The bumpers are the same as they were when I owned the car 20-25 years ago. They appear to have been re-chromed at one time. It was not a perfect job, but no damage done other than the rear bumpers were re-installedincorrectly. (Not aligned properly, they mixed up the shims) Wheels are very nice original, but like 99.9% of all Brougham wheels they will need to be re-chromed for a high point show car.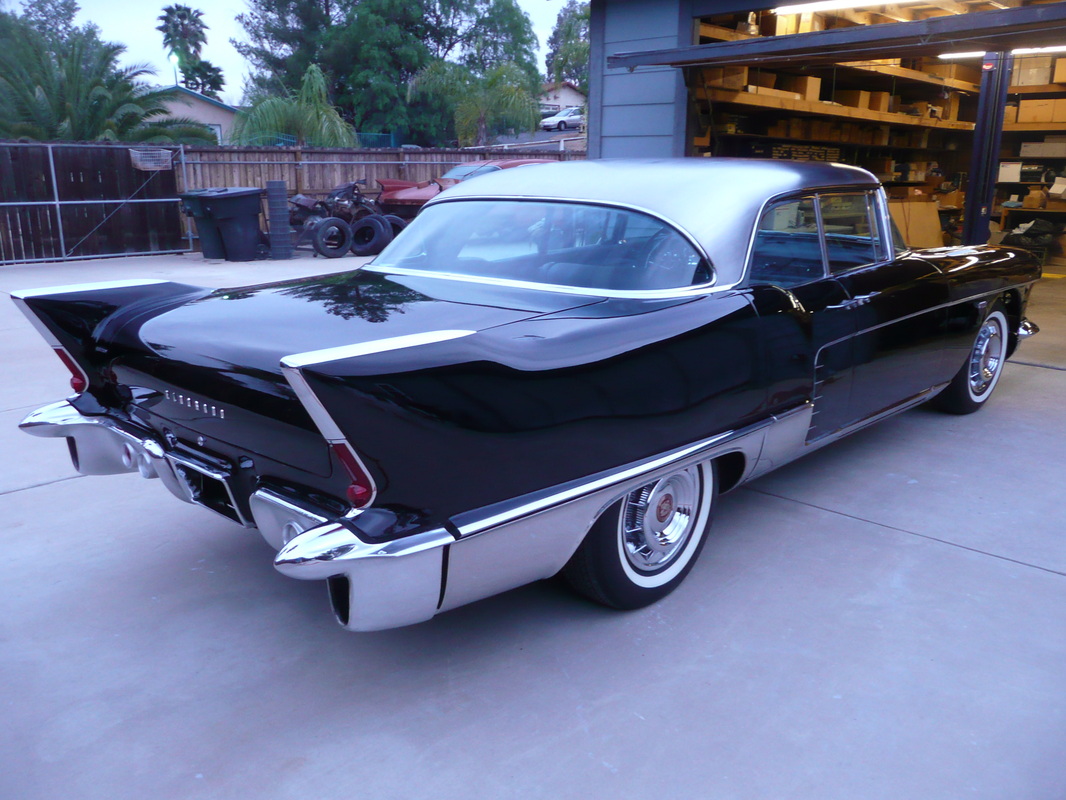 Interior: Absolutely magnificent original condition. This is something you almost never see on a Brougham. It has a very attractive gray interior with shimmering cloth cushions and mouton.The original gray cloth on the seat cushions is incredibly clean, even where the driver sits is pristine. The original light gray leather is near mint. It could be improved slightly,
brought from 90% condition to 98/99% condition,with a light coat of dye. The interior chrome is absolutely gorgeous, near
mint. If you re-chromed these pieces they would never look as good as they do now! The dash pad vinyl does have the usual wrinkle problems, which most Broughams have.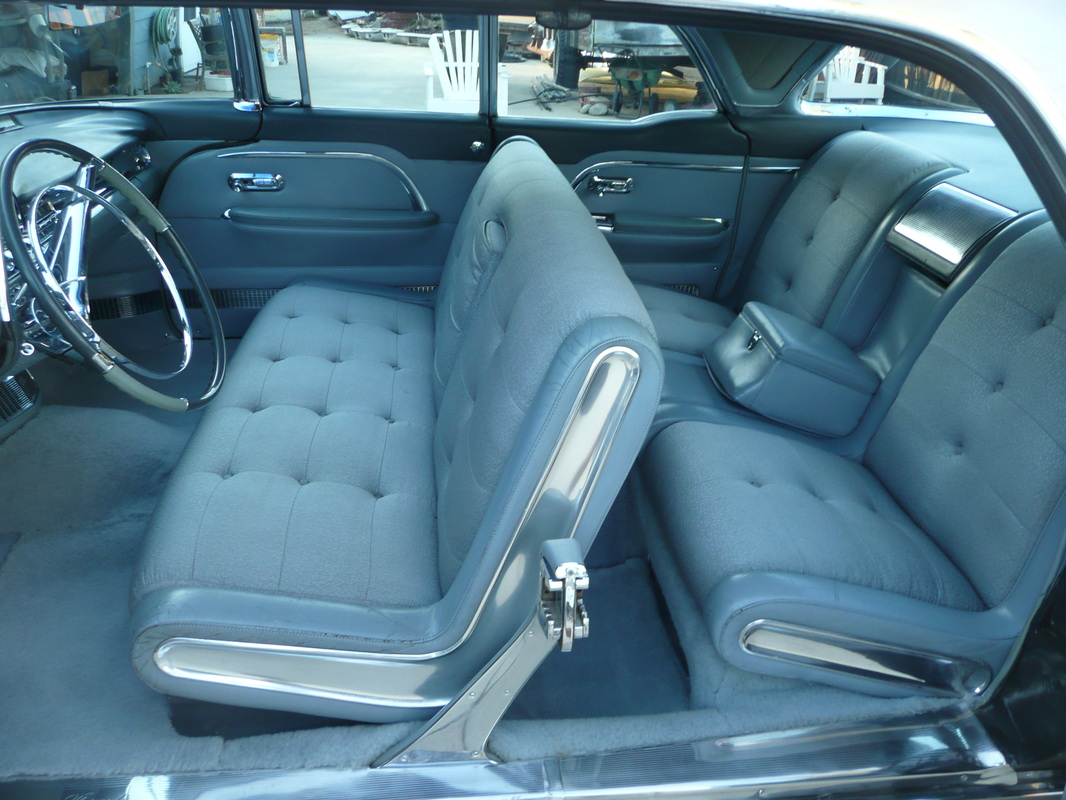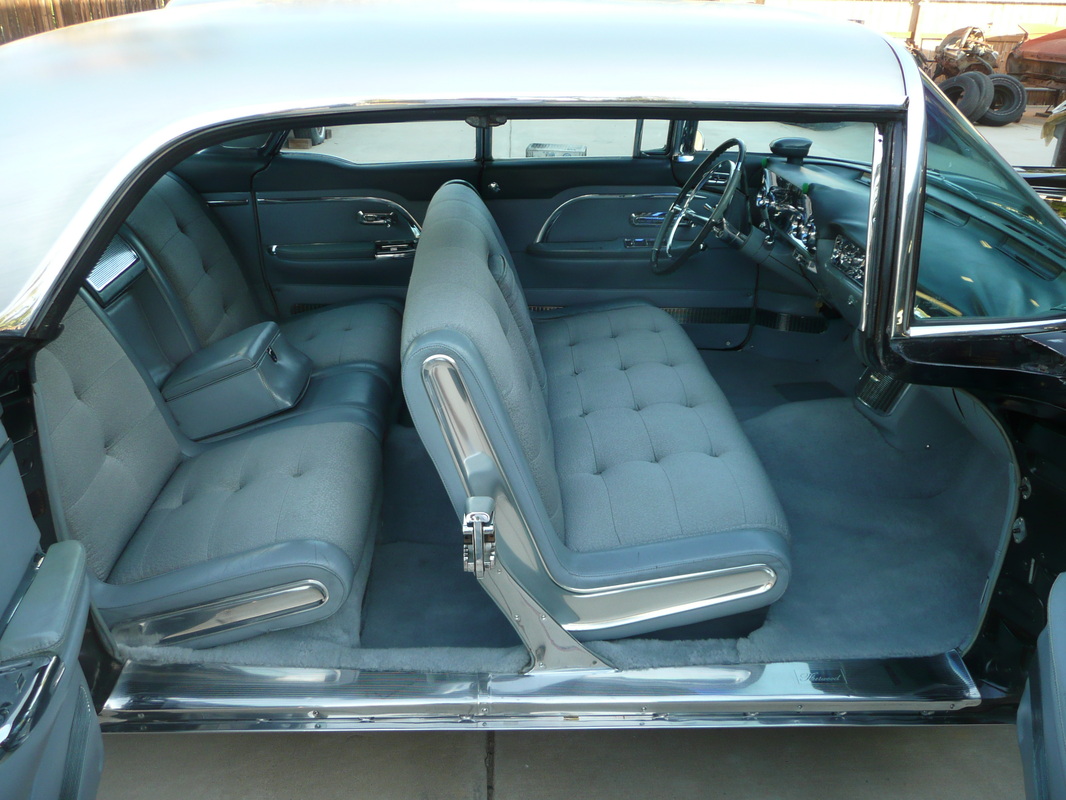 LooseParts:I have carefully inventoried and organized all disassembled parts. All parts are accounted for and have been
carefully boxed by category. The engine is incredibly clean inside (No black corn flakes from not changing the oil) and is on a stand. It has been stored carefully wrapped in plastic. There are only a very few minor parts missing: The fan shroud (Same as standard 57 Cadillac), two very small 90 degree elbows for stainless trim above the front bumpers (90% of Broughams are missing these because they often fall off), and two short vertical grill blades (Again a lot of Brougham are missing these
parts that tend to fall out of the grill) Also like most Broughams the vanity set is not there. Most of the Airide has been
removed, but the 2 engine compartment Airide relays, Airide sway bar, special Brougham only rear axle, differential, and rear trailing arms are all still in the car.

Many people over the years have specifically asked me for a black Brougham. In fact some people will not consider any other color! This is probably why so many were originally delivered in black. You could never hope to find a better original condition black Brougham than this one! Great Broughams like this typically sell privately. Rarely do they get advertised. While it
would take a significant effort to put the mechanical components back together, and it would not be a perfect car as is, it could be turned into something farabove average for a fraction of what it would cost to do a body off restoration on a complex car like the Brougham.

Since the chrome window frames, glass, roof, and interior are near mint this car it could easily be made into a 95 point restored car with a new paint job, some exterior chrome, and minor interior work. Depending on how much of the work you do yourself
your total investment would be roughly 25%-30% of what a body off restoration would cost! Make no mistake this is a very rare
opportunity to obtain an extremely high quality Brougham at a very affordable price. Then it could be improved on as your time
and finances permit. This is the kind of Brougham a lot of people ask me for, but is nearly impossible to find these days.

Please go to our website to view more pictures of this fabulous car. If you would like to visit in person please let us know. Either
way if you buy this car, or a different one, I would be able to help you in many ways. The 57-58 Brougham is my specialty and the selection and quality of the parts we offer is unsurpassed anywhere on planet earth. We will be happy to help you
wherever possible. Thank you for your interest.

Sincerely,
Michael Rizzuto
3/16/14

PS: We will sell to the person that makes the best offer over 45K. Please submit all offers at your
earliest convenience. Thank you.