59ZB01-030:1958-60 Cadillac Air Suspension Compressor to Reservoir Check Valve Assembly
(Fits all 58-60 Cadillac models with Airide, except 58 Brougham)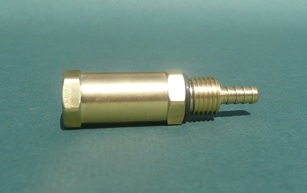 Dear Air Ride Enthusiasts,
GOOD NEWS! You can now get a show quality replacement for this near impossible to find part! As many of you Airide sufferers are painfully aware these parts are often missing and/or badly damaged. Before we made the correct internal parts available to repair the OEM units amateur mechanics would frequently destroy these parts in an attempt to repair them. Many times they would simply throw them away and then attempt to replace them with something from the local hardware store, which of course does not work.

Even if you are lucky enough to have a functional one of these elusive fittings it the rare person indeed that has one that is actually show quality cosmetically. As with most of the soft brass fittings in the system many of these parts have been badly chewed up with wrenches, pliers, and vise grips over the years. Often they get frozen together, or frozen in to the tank. By the time you get them out, and get them apart, they very often look like something your dog had been chewing on for a few weeks. Needless to say this does not look very nice on a show car!

Without this critical part your Airide system will exhibit all sorts of bad behavior that will get your car sent to the principles office frequently! A bad check valve will cause your air reservoir tank to be depleted almost immediately, and will direct high-pressure air to your engine crankcase, which will cause excessive blow by and smoke from the crankcase ventilation pipe. Also a properly functioning check valve is very important for the health of your compressor. A malfunctioning, or missing, check valve will cause the cylinder heads to overheat. This will ultimately lead to failure of the already often-problematic internal flapper valves that are an integral part of the heads.

Help is at hand! This reproduction part is an exact replica of the OEM part right down to the smallest detail! It was a monumental effort to re-create this part. It is far more complex than it appears. Months of work went into the blueprints alone! Special tooling and fixtures were built to properly machine the internal seats. This complex part was extremely time-consuming and expensive to produce but it was all worth it. We no longer must have our eyesight offended by a beautifully restored car with an old chewed up fitting staring us in the face every time we open the hood! Fortunately you can now solve your problem for a tiny fraction of the actual cost to reproduce this rare part!

I have been successfully restoring these Airide systems for people all over the world for 30 years now! It is a fact that 99%, or more, of the un-restored Airide cars I run across have a bad check valve! This part fits all 58-60 Cadillac models with Airide, except 58 Brougham. As with most of our specialized products these parts are made in very limited quantities. We will not always have them in stock so there is no time like the present! Thank you for your consideration.

Sincerely,

Michael Rizzuto (Revised 9-12-13)

ORDERING INFO: (All prices listed in USD) To help streamline the ordering process we are trying a new semi automated system. PLEASE CLICK ON THE APPROPRIATE PAYPAL LINK BELOW TO ORDER: You will be taken directly to our Paypal invoice system where you can make your purchase quickly and efficiently. (In other words without waiting for me to get to it!)

NOTE: The total shown on the invoice shipping cost line item is calculated at a flat rate, which is our average actual cost. On domestic shipments it includes shipping and insurance for one item only. On international shipments it includes shipping only (Without insurance) for one item only. Thank you.

59ZB01-030 1958-60 Cadillac Air Suspension Compressor to Reservoir Check Valve Assembly (Fits all 58-60 Cadillac models with Airide, except 58 Brougham)

FOR OUR OUT OF STATE CUSTOMERS ONLY:

FOR OUR IN STATE CALIFORNIA CUSTOMERS ONLY:

FOR OUR INTERNATIONAL CUSTOMERS ONLY: (All prices listed in USD)