1957 Cadillac (ALL) Transmission Cooler Hose to Trans Pan Clamp 57ZB06-008
(Also Fits 57-58 Brougham)
Dear Cadillac Enthusiasts,
NEARLY EVERY 57 CADILLAC IS MISSING THIS PART! I would bet money that 90% of you have never even seen this rare part before, nor have you a clue where it goes! Contrary to popular folklore you do not have to leave your transmission cooler hoses waving in the breeze! This nearly extinct part was very likely discarded decades ago the first time someone changed the heater hoses on your car. Personally I have found only 2 or 3 of these rare clamps still intact from the factory over my 30+ years in the business!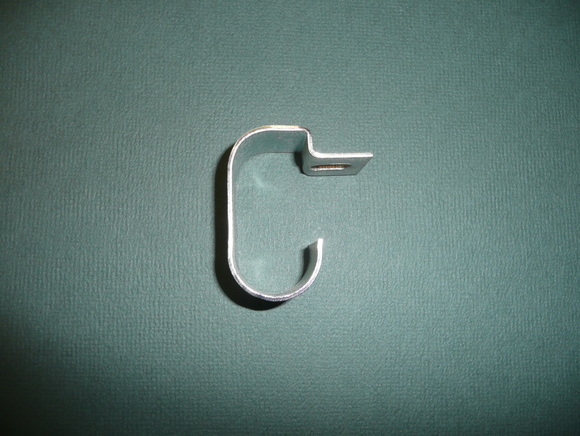 For some odd reason most car mechanics seem to think this type of part was the automotive equivalent of an appendix. Why they as a group seem to think GM would have spent the time and money required design and install an unnecessary part on hundreds of thousands of cars is far beyond my comprehension. Then again there are many things about the world I do not understand so we will just leave that imponderable for another day!

This part was originally installed under one of the transmission pan bolts (at the right front corner of the pan) and is designed to keep both transmission-cooler hoses tucked neatly against the engine and transmission so as to avoid road hazards and other potential catastrophes that one could imagine as the hoses flap in the breeze at high speed.

This part was originally installed on the assembly line and painted blue at the same time the engine and transmission was painted. No high point restoration can be complete without this rare part! Now you can purchase an exact replica of this formerly impossible to find part instead of having to hunt through junkyards for decades in a fruitless attempt to find one! Thank you for your consideration of our offer.

Sincerely,Michael Rizzuto

ORDERING INFO:

To help streamline the ordering process we are trying a new semi automated system.
Currently this is being implemented only on our e-mail parts promotions.

Please click on the appropriate hyperlink below and you will be taken directly to our Paypal invoice system where you can make your purchase quickly and efficiently. (In other words without waiting for me to get to it!)

NOTE: The total shown on the invoice shipping cost line item is calculated at a flat rate, which
is our average actual cost. On domestic shipments it includes shipping and insurance for one item
only. On international shipments it includes shipping only (Without insurance) for one item only.
If you wish to order more than one please create a separate order for each additional item. Thank
you.

FOR OUR OUT OF STATE CUSTOMERS ONLY:
FOR OUR IN STATE CALIFORNIA CUSTOMERS ONLY:
FOR OUR INTERNATIONAL CUSTOMERS ONLY: (All prices listed in USD)