57EB14-010A: 57/8 Brougham Interior Dome Light Lens

Fellow Brougham Owners,
As most of you are painfully aware your old dome light lenses, if you have any at all, are completely worthless pieces of extremely ugly, yellowed, and very brittle plastic. They crack much easier than eggshells. All you have to do is look at them wrong, or happen to have a strong breeze nearby! Heaven help you if you ever need to change a bulb, or service the wiring behind them. You will find the chance of removing the OEM lenses in one piece about that of hitting the lottery while simultaneously being struck by lightning!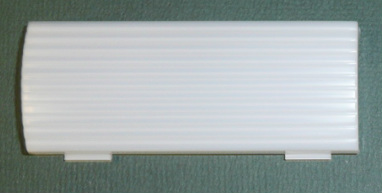 At one time in the recent past we had been out of stock on these parts for a very long time because our first expensive injection tool mold had been damaged beyond repair. To build the mold was very costly to begin with. Then to have to replace it even more so since previous sales had not yet covered the cost of the
first mold, which we made over 15 years ago! As a result of all the expensive disasters it took us quite a few years to save enough money to create the second mold. Recently we made another limited run of these rare interior dome lenses. While they look identical to OEM, and are made in the correct translucent plastic, they are far superior because they are made of a more modern material. We also made the mold differently this time. We used an OEM master part as a guide instead of the NOS part we used the first time. As a result the parts are much better than NOS. I will explain below. When we built the first mold we copied an NOS lens. You would think there would be nothing better to use as a master pattern but you would be wrong! We have discovered over the years that NOS Brougham parts are not the panacea many people think they are. These highly sought after parts are often nothing more than defective parts that were rejected on the assembly line, then repackaged and sold as replacement parts by Cadillac dealerships.


I have run across a lot of defective NOS Brougham parts in my 30 years of working on these cars, which I thought to be very odd at first. Many years ago I learned the awful truth about this from a guy who was in the room when the Broughams were being built. He told me many of the pieces that had been rejected during final assembly wound up as replacement parts. Then it all made sense! As a result of this the first time we made the mold we copied flawed lenses that did not have the correct ribs, and more importantly did not snap into the bezel as effectively as they should have. We have corrected all these problems in the second mold.

I am very confident that you could never find better parts at any price. These parts were made in very expensive injection tool steel dies, the same way the factory parts were made. (Unlike many of the limited production plastic parts being made these days in rubber molds, which are much lower quality) Every Brougham owner will need these parts sooner or later so there is no time like the present! It could be many years before we get back to this project again, if ever. Also thanks to all the money printing lunatics in governments around the world it is a virtual certainty that the cost will be significantly higher in the future too.

Sincerely,

Michael Rizzuto 11-26-13

ORDERING INFO:

To help streamline the ordering process we are trying a new semi automated system.
Currently this is being implemented only on our e-mail parts promotions.

Please click on the appropriate hyperlink below and you will be taken directly to our Paypal invoice system where you can make your purchase quickly and efficiently. (In other words without waiting for me to get to it!)

NOTE: The total shown on the invoice shipping cost line item is calculated at a flat rate, which
is our average actual cost. On domestic shipments it includes shipping and insurance for one item
only. On international shipments it includes shipping only (Without insurance) for one item only.
If you wish to order more than one please create a separate order for each additional item. Thank
you.

57EB14-010A: 1957 & 58 BROUGHAM ONLY INTERIOR DOME LIGHT LENS
FOR OUR OUT OF STATE CUSTOMERS ONLY:
FOR OUR IN STATE CALIFORNIA CUSTOMERS ONLY:
FOR OUR INTERNATIONAL CUSTOMERS ONLY: (All prices listed in USD)