57EB12-019, 57-8 Brougham Chrome Headlight Trim Molded Rubber Seals
AT LAST! 57-58 "Brougham Only" Headlight Chrome Trim Molded Rubber Seals Are Finally Back In Stock! It has been many years since they have been available. I have never seen a 57-58 Brougham that does not need these parts!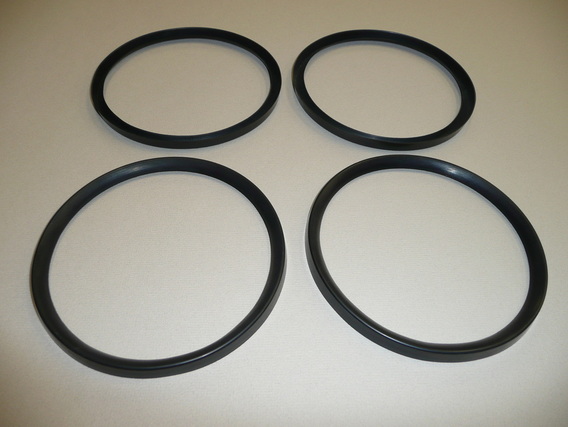 Needless to say making OEM quality high production parts for limited edition cars is a very time-consuming, and expensive undertaking. The good news is that we have created very high quality reproductions that look identical to OEM, but that far exceed
the factory quality. These parts were made in expensive steel dies, the same way the factory parts were made. The difference is that our flawlessly molded and trimmed rubber parts look and fit far better than the OEM parts! You could never find better parts
at any price. Now for a tiny fraction of the actual cost to produce these parts you can have a brand new set! Joy to the world!

Many Brougham owners have no idea what these parts are, nor have they ever seen them before, because in many cases they rotted and fell off the car decades ago! Now is your chance while they are still available. If you are restoring your Brougham you will need these parts sooner or later so there is no time like the present! Thank you for your consideration of our offer.

Sincerely,
Michael Rizzuto

ORDERING INFO:
To help streamline the ordering process we are trying a new semi automated system.
Currently this is being implemented only on our e-mail parts promotions.

Please click on the appropriate hyperlink below and you will be taken directly to our Paypal invoice system where you can make your purchase quickly and efficiently. (In other words without waiting for me to get to it!)

NOTE: The total shown on the invoice shipping cost line item is calculated at a flat rate, which
is our average actual cost. On domestic shipments it includes shipping and insurance for one item
only. On international shipments it includes shipping only (Without insurance) for one item only.
If you wish to order more than one please create a separate order for each additional item. Thank
you.

FOR OUR OUT OF STATE CUSTOMERS ONLY:
FOR OUR IN STATE CALIFORNIA CUSTOMERS ONLY:
FOR OUR INTERNATIONAL CUSTOMERS ONLY: (All prices listed in USD)